It's captured people's attention with its "give the finger to the man" attitude, but now, frank. is undergoing its first real test on the crowdfunding market. The company, led by a 17-year-old, has launched an Android smartphone of its namesake as an Indiegogo project with a funding target of $250,000 by October 5.
The device itself doesn't have too many frills to it. In addition to the specs above, there's a fingerprint sensor, headphone jack, USB-C and an all aluminium body. It's all pretty standard stuff — "just another f&#king phone" is one of the taglines being used — and the Canadian company says it costs US$150 per unit to mass produce.
Have the right expectations? This is a pretty okay thing, then.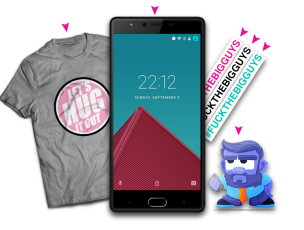 The early bird price for the phone, a set of earbuds, a power adapter, a case and a screen protector is just US$180 plus shipping. As of press time, 30 of 100 slots were claimed. After that, a second tier of 1,000 slots will open up at $219. The main pricing tier for Indiegogo will be at $233, though, for some reason, only 750 slots will be open. Full retail price is expected to land at $279. Extra swag (T-shirt, stickers) is available in separate packages. Hit the source link below this story for access.
If the recent commotion about the security of BLU phones has still got you worried, but you simply just can't afford expensive phones, you may want to join this crowd and fund this project. Shipping to the US and Canada begins either side of the new year.
We'll be asking the company's 17-year-old founder, Moe Omer, some questions on our #PNWeekly podcast this week. Head to Twitter and join the conversation.