Need to Make a Big Decision? Let your PDA make it for you!
This decision wizard turns your PDA into an artificial intelligence thinking machine using boolean and fuzzy logic. Now you have a decision helper useful in a variety of decision making situations such as personal decisions, buying decisions, etc.
Problems that traditionally require a pen, paper, and concentration become easier to solve with PocketAI. It surprisingly simplifies and accelerates decision making.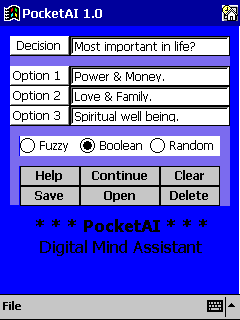 PocketAI is free, click here to download